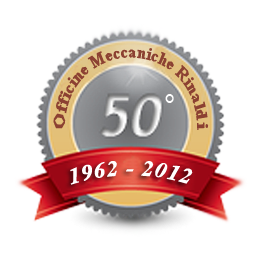 OMR celebrates its 50th Birthday
This owner-operated company was started in 1962 in the small town of Brembilla, near Bergamo, Italy. In 2012 the Company celebrates its 50th Birthday, an historical moment that OMR wants to share both with its affectionate and recently acquired customers.
The Company has considerably progressed since 1962 when it had only four automatic cam laths. Thanks to the important investments made by the Company, CMR has now first class machines, including CNC, Transfer for secondary operations, Milling, Gear-cutting, Rolling and Spindle Machines for external diameters.
The Company has successfully kept track of technological developments by regularly meeting its market needs and clearly setting its main objectives: quality machining works and materials, customers' satisfaction and advanced technical skills.
Its people have constantly contributed to its success with their efforts and dedication. This is crucial to build an organisation that is able to grow, improve and progressively get stronger.
 Today the Company produces mechanical fittings for a wide range of diversified industries: from mechanics to technology, from medical to automotive sectors, from oil hydraulic to tyres industries and so forth. Customers' loyalty rewards the Company for its long standing experience, efforts to meet their requests and constant quality of the products provided.
The Company has been working with numerous and different industries to which it has constantly proved to be a reliable, high performing and customer oriented partner.